The Art of Intervention: Diplomacy and Deployment after Iraq With Dominique de Villepin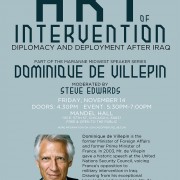 The University of Chicago French Club and its Partners Present​
Join Dominique de Villepin, former Prime Minister and Foreign Affairs Minister of France, as he offers his unique perspective on more than ten years of foreign intervention around the world.
Since his historic speech in 2003 at the UN Security Council declaring French opposition to the US invasion of Iraq, Mr. de Villepin has remained a prominent voice on foreign intervention and its alternatives. A veteran of diplomatic channels, Mr. de Villepin will draw upon his exceptional experience to reflect on international crises facing the world today.
His address will be followed by an extended Q&A moderated by Steve Edwards, Executive Director of the University of Chicago Institute of Politics.
Please REGISTER only if you will attend and CANCEL if your plans change.
Please contact University of Chicago French Club President Eve Zuckerman with any questions about this event: ezuckerman@uchicago.edu