Spring Fling Apres Work Networking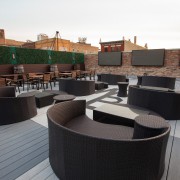 Please join us apres- work for some roof top mixing and mingling – Euro style- and this fab new Wicker Park venue featuring craft cocktails, great city views + vibe and of course, music by DJ's John Curly and Henry Castro!
We also have some fantastic co-hosts for this one!
Meet one of our lovely co-hosts: Klara Jarolimova ❤️
Klara is originally from the Czech Republic, but has spent half of her life moving around the USA. She has been in Chicago for 7 years and works as a UX Designer and a part time grad student. Traveling to new places and getting engrossed in more cultures has always been part of her journey. Klara loves photography and meeting new people!
Ben is President of the Finnish-American Chamber of Commerce-Midwest headquartered in Chicago that operates across a seven state region. He loves going out, meeting new people and generally getting the most out of life – whether that's trying new bars and restaurants or picking up a new sport like surfing. His favorite words in any language are "Please proceed to your gate for departure". He's up for anything and looks forward to Mondays."
See you at Whiskey Business.
Maria Dollas, Klara Jarolimova & Ben Wheeler