THE 12TH AUSTIN POLISH FILM FESTIVAL
Make plans to see the latest and the best in Polish film at the 12th APFF,  November 2nd – 5th, 2017 at the newly renovated AFS Cinema   (former Marchesa Hall & Theater) and special screenings on November 6at the Regal Arbor 8 Great Hills.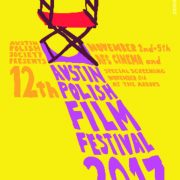 Austin Polish Society (APS) is a 501(c)(3) non-profit organization established in 2005 to further knowledge of Polish culture,  language, history, and arts in the Austin area.
APS has organized and co-sponsored the Austin Polish Film Festival (APFF) since 2006.  This film festival is unique among all the film festivals in Austin not only because it brings Polish feature films, documentaries, shorts, animations, and the filmmakers from Poland, but it also presents the incredible art of Polish poster and their creators, while promoting cooperation between Polish and Austin creative worlds.
Poland has a rich history of filmmaking that spans over 100 years, but it is little known to most film audiences in Texas, due primarily to distribution issues and limited promotion outside of Europe. The role of the APFF is to bring quality Polish films to Austin audiences and expand awareness of Polish arts and culture.