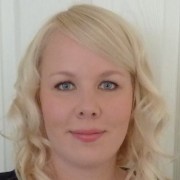 Tell us about yourself – who are you and what would be the short story of your life?
Hi! My name is Anna and I live in Sacramento, California with my husband and 3-year old twin girls. We've been here just two months, so we are still getting familiar with the place. My husband is American but has lived in Finland the past 13 years. We wanted to see how we like living in the US and as soon as he got a job from here, we moved. We sold everything we had in Finland and are starting all over here.
I'm currently staying home with the girls but plan returning to work in a year or two. In Finland I went back to work when the girls were 1-year old and always felt kind of bad about it even though my career is also important to me. I guess I'm not the first person to struggle with those thoughts. My work history is in retail and wholesale. For the past 5-years I worked in purchasing for a large supermarket and department store chain in Finland. The last year I was in a SAP implementation project representing the purchasing department.
I have a Bachelor's degree in International Business from Tampere, Finland. I've also spent some time abroad first when I was a high school exchange student in Omaha, Nebraska and then again for my University exchange in Penang, Malaysia. I'm planning on studying for a MBA in one of the universities in the Sacramento area. I'm hoping to start my studies in a year. I just made the first step towards accomplishing this goal and ordered the study material for the GMAT exam.
We know that your family is very important for you – could you tell us more about your family and what makes you happy. What about work?
My husband and girls are everything to me. We are far away from both of our extended family so we are surviving on our own here in the big world. My relatives are in Finland and my husband's parents currently live in Guatemala, where his dad works to help the government banking system. The rest of his family is spread all over the US. Let's just say that planning for a family reunion would not be an easy task.
Workwise I'm kind of unsure of what's to come. I'm hoping to find an interesting job in a couple of years after or while I'm getting my MBA.
What is THE thing/s about Sacramento captivates you the most? If someone asked you what they should NOT miss while in Sacramento, what would reply? And what I really SHOULD miss….In comparison to Helsinki?
We've only been here for two months, so I'm sure that there's still a lot discover. One of the best things about Sacramento is the location. San Francisco and the ocean are close enough for daytrips and you can see the Sierra Mountains to the east, so winter fun is less than 2 hours' drive from here. The climate is great. Sacramento has been noted as being the sunniest location on the planet for four months of the year, from June through September. I think that fact alone is enough reason to like Sacramento.
Anything truly memorable that has happened to you since you have lived in Sacramento?
Like I mentioned above we've been so little time but if I had to mention something I would have to say that I really enjoyed the warm Christmas weather of 64 F.
What really annoys you about Sacramento – or maybe nothing does? Helsinki..same question?
Coming from Finland I have a hard time adjusting to all the homeless people on the streets here. Nothing really annoys me about Helsinki, but I think Finnish people should be more aware of how good they have it.
What do you miss most from Finland or Helsinki…in addition to the family and friends? Food, culture, life style…
I miss going to downtown Helsinki. Downtowns in the US just don't have that same atmosphere. I think I'm also going to miss going to Finnish lakeside and going swimming in a lake.
Do you have a favorite Sacramento restaurant? Why….what is the good and bad about restaurant / café culture in your opinion in Sacramento/Helsinki.
I grew up in Tampere, Finland and miss some of the cafes I used to go to when I was studying there. Moving to Helsinki my life got too busy to have time for cafes. In general Finland has better cafes because the American cities have been taken over by Starbucks. Don't get me wrong, there's nothing wrong with Starbucks coffee but the chain cafes and restaurants always lack something in the atmosphere.
I am enjoying the restaurants in Sacramento. There's a good variety of all kinds of food places and the prices are so much more affordable compared to Finland. I don't have a favorite yet, but we have been going out to eat a lot. Even our 3-year olds are really good restaurant goers and you can take them to any place and know that they'll behave themselves.
Where and how would you live in Sacramento or elsewhere if money is not an obstacle – compared to how you live now or would you stay where you are? Why?
Right now we are renting a house. This area was recommended to us by another Finnish lady. We hadn't been to Sacramento prior to moving here and we wanted to narrow down the search to a specific area and that's how we ended up here.
We will be buying a house in a year or two and have been driving around to see the different areas to see which we like. There is an area close to downtown that we both really liked. It's called "Fabulous forties" and had gorgeous Victorian style houses. The streets look like something from a movie. Right now the area is a little out of budget but we have our minds set that we'll be living there eventually. We still have a house in Finland that we haven't sold. The market there is really bad right, but hopefully year 2014 will be better and we'll sell the house soon.
What do you think about the cost of living in Finland vs Sacramento and the standard of life and life style? Very different..??
Sacramento is more affordable compared to living in the Helsinki area. You can get a house twice as big for the same price. Going out to eat is way cheaper here. But then in the contrast you pay a lot for healthcare that is practically free in Finland. I'm looking into getting my MBA, which in Finland I could get for free but is going to cost me a lot here.
If you could change something about Sacramento vs. Helsinki – what would it be?
I would like better selection in interior stores  Let's just say that I'm not a big fan of the American style of furniture and interior.
How do you think your life would be different if you stayed in the Finland or at least Europe? What would be a typical day or week in your opinion in California vs. Helsinki…I can imagine Christmas time is different.
For me life in Helsinki would be very different because I would be working and the girls would be in the daycare. The fall and winter months in Finland are boring because it's so dark and not much going on anywhere. Then when it gets lighter outside people come back to life again. I'm really enjoying the warm, sunny weather and going to parks with the girls every day.
I'm looking forward to experiencing how the work culture here compares to Finland. I've heard that people here work longer days but that the work is not always done as effectively as in Finland.
What are the biggest misconceptions (or perceptions that turned out to be correct) you had about Sacramento when you moved here– and vice versa you think many of us have about the Finnish food etc?
I didn't really have any perceptions moving to Sacramento. I had been to California before, but not to Sacramento. So far I like living here.
If there are some things you think everyone should know about the Finnish people, country, food, culture, drinks, music – what are those things to you personally? I don't even know how many Finns are here in California, do you?? How can anyone find the Finnish people in Sacramento or online…
Everybody should know that Finnish people are honest, trustworthy people. To Americans we can come across being quiet and even a little shy sometimes. Just the other day it I felt very amused reading about this band Bat&Ryyd that became a phenomena in the late 1980's. It made me realize that most Finns share the same weird sense of humor. There has been several humoristic tv shows and music that all Finnish people get into. We also have several has been celebrities who's lives we like to follow every week from tabloids.
Overall I'm very proud to be from Finland. I'm proud of how everyone is being taken care of in Finland; I wish that everyone in Finland would also realize this. I'm also proud that in Finland education is free and everyone has the chance to educate themselves.
The first thing I did when I found out we'd be moving to Sacramento, was that I went online. I found out about the Finlandia club of Sacramento Valley and got in touch with two ladies through that. The club organizes parties every now and then and many of the ladies keep in touch on a daily basis. Most of us are Finnish ladies married to American men. It's been fun spending time with the ladies and their families. . We even celebrated Christmas together.
I have no idea how many Finnish people there are in California, but I think there's about 60,000 west of the Mississippi river.
Connect with Anna Rhoades:
Anna at Facebook: www.facebook.com/rhoades.anna
Anna at LinkedIn: www.linkedin.com/pub/anna-rhoades/10/90/8bb
Suomalaiset Kaliforniassa – missa on tietoa:
Connect with other Finns for example via Facebook groups:
Piilaakson suomalaiset naiset (that means Silicon Valley's Finnish women)
Finnish, but not in Finland! Suomalaiset ulkomailla!
USAn suomalaiset!
More official – FACC (Finnish American Chamber of Commerce) – fan page
Finns in California