Austin - Eurovision Song Contest (Live Screening)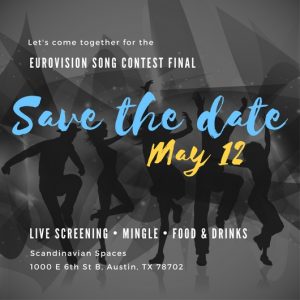 Hands up for your colors! Raise your flag.
What about watching the Eurovision Song Contest on a big screen LIVE together with all of your fellow European friends? Join us and millions around the world on May 12th to celebrate the "Olympics" of pop music as the 63rd edition of this mega event unravels from Lisbon, Portugal.
This is a fun and family-friendly event featuring: a pre-show mingle with your favorite Eurovision tunes, a guess the winner competition, a quiz walk, mimosas, beer and snacks, and of course a LIVE streaming of the show.
Register either at EuroCircle and pay at the door  (SACC prefers that you pay in advance but there will also be an option to pay at the door) . You can also register and pay at SACC website
(they apply the membership price for us as well – and kids under 18 are free)
Fees/Admission (all snacks/drinks included)
$20 per adult (member price SACC/SWEA)
$25 per adult (non member price)
Children under 18 are free of charge
GET YOUR TICKETS – Click HERE
EuroCircle is joining forces with the local Swedes -SACC-Austin & SWEA at this gorgeous Swedish (EuroCircle long time member) owned venue