Famous for its outlandish gay groups, earthquakes, gorgeous scenery and eccentrics, San Francisco is probably considered by many Europeans as the most beautiful city in the USA. With 43 hills and a population of free thinkers, crafty inventors, and weirdoes passing as normal, this city stubbornly refuses to be ordinary. San Francisco's stratospheric real estate and stock booms and crashing busts aren't for the weak of heart, but this town gives one hell of a ride. It is a place everyone should visit at least ones. It's hard to resist with all its charm and nearby Sausalito, Napa Valley and Silicon Valley adds to the appeal. Bike over the Golden Bridge…what an experience!
UPCOMING EVENTS IN SAN FRANCISCO
There are no upcoming events for San Francisco at this time, check back later.
PREVIOUS EVENTS
Here is a listing of all the 205 previous events we have had in SAN FRANCISCO. Events with pictures are noted with a camera icon.


SAN FRANCISCO TEAM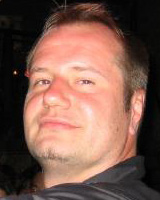 Marc James de Jong
Originaly from the Netherlands, Marc moved to Wisconsin at 16 and went on to the University of Wisconsin, Oshkosh. Here he fell in love with the Model United Nations and received the best delegate award in St.Louis and in New York City with more than 140 universities competing. He graduated with a Bachelor of Arts in International Studies & German with a Minor in Business and European Studies.
After an internship over the summer, he immediately went back to Europe where he finished a Master of Science at the University of Sheffield Hallam and the Hanze Hoge School of Economics of Groningen. He was the Board Representative of all Master's Students in Sheffield.
His Master's thesis was deducted for a British Export Company and how to make green marketing economically sound. He spend several months traveling Germany and not only wrote his thesis but launched an entire green product range at one of the biggest department stores in Germany. The success in Germany brought Marc James in connection with his rich family sea faring history and decided to join the Naval Academy in the Netherlands. Graduating from the KIM (Royal Navy Institute), Marc James was placed at the Ministry of Defense in the Hague, Netherlands to be in charge of the upgrade of all Mine Sweepers, Mil Sat Com (Europe's Military Satelite) and assist in building a Marine Transport ship. With several missions with the Trojka system ( a remote controlled drone to detonate mines to save the lives of marines) he met Royal Marines who invited him to play rugby soon he became the captain of the Dutch Navy Rugby team and was organizing tournaments across Europe.
In the Hague at a Job Fair Expo where Marc James was invited as the Representative of all Lieutenants (3rd class) and a weekly attendee of KVMO. (royal naval officer organization). He met a recruiter from IBM who offered him position within Global Services. Soon he found him at the IBM business school in Belgium and after completing his courses he was stationed by Amsterdam as the project leader for various tasks. He also won the Rookie Manager of the Year with his team winning the entire 4 month competition. As the economy was staggering, he became the head of the skills matrix (a system to design whether personnel was go to achieve or fail and give them an early farewell if they were to fail). This operation did not go well with sunny and cheer full Marc James and he opted to go to the Sunny Silicon Valley to gain his luck with the Dot Com Era.
He found a job at non-profit on-line marketing company but soon the company was bankrupt and he then became a project leader at a rising semi conductor company, however the bubble hit even worse but this give him the opportunity that he always loved to do: paint and dj. So becoming the General Manager of an Art Gallery was a made in heaven. At the art gallery he experienced such a love for people and food that he was inspired by the smiles of his customers. So naturally planning weddings, events, birthdays became 2ND nature to him and now he continues his passion marketing and planning events as the bar and beverage manager for the Intercontinental Hotel Group and obviously as SF rep for Euro Circle.
CITY INFO
DIRECTORY
LANDMARKS
TIPS/TODOS
FORUMS