Austin, the capitol of TX, has been called the only liberal city is the very Republic state of Texas. Austin has been voted for the last 10 years consistently among the 10 best cities to live, work, raise a family, go to college and retire. The average age is less than 30, the average population is smarter with higher income. The city also offers the great outdoors: more than 200 parks and around 300 days of sunshine each year. With Hill Country vistas outside the city and Lady Bird Lake in the center of town, Austin also has miles of hike and bike trails (thanks Lance Armstrong). After the beautiful sun sets, the most talented musicians in the country will show you why Austin is The Live Music Capital of the World. The music lovers never miss Austin City Limits and South by Southwest Festivals. While you visit, save time to visit the Whole Foods headquarters and many picturesque food trailers all Austinites favor. You might take a leisurely drive to admire the landscapes of Hill Country's picturesque countryside, the acclaimed Salt Lick Barbeque and vineyards. If your visit takes place late spring, you will enjoy the famous Texas Wildflowers along all the roads! Read more – and you understand why Austin's slogan is Keep Austin Wierd!
UPCOMING EVENTS IN AUSTIN
Austin — Jun 23
International Potluck for all international welcome ambassadors organizations

36 PREVIOUS EVENTS IN AUSTIN
Events Legends: Music/Concert Charity Event Movie Screening Event Photos
2013 – Events Listing
2012 – Events Listing
2011 – Events Listing
2010 – Events Listing
AUSTIN TEAM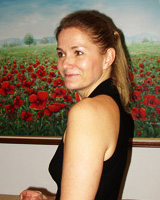 Kaisa Kokkonen, EuroCircle Founder has been in the USA from May 1992. The first 12 years as an Associate Director of Marketing at Ernst & Young's International Tax Law Department. As a former lawyer, she have several years of work experience from her native country Finland in banking, insurance and the Finnish courts.
Kaisa founded EuroCircle after years of talking about with Cindy Willson and Eric Faltraco who both pushed her to do something about it. The hardest part was coming up with an original name that nobody was using. It took months because she didn't want to be a copycat.The first event took place at City Hall Restaurant on Monday, Jan 11 1999.
Kaisa likes doing lots of different things: reading, movies, good food, wines, traveling, opera, spending time with her family in the Finnish countryside, walking, and nature, helping with good causes… The list of things that she'd like to do is really, really long. She works full-time with Gary Spirer's Questionmine.com (interactive digital marketing software with surveys etc) and EuroCircle which leaves her literally no free time. Work – Start by doing the necessary, then the possible and suddenly you are doing the impossible. Life – Life is 10% of what happens to you and 90% of how you respond to it. Change – A good way to change somebody's attitude is to change your own.
CITY INFO
"The Live Music Capital of the World"
Population: 786,382 (2009 U.S. Census estimate) EuroCircle started: November 20, 2010 Austin is know for: "Silicon Hills", "Keep Austin Wierd" (this refers partly to the eclectic and liberal lifestyle of many Austin residents but is also the slogan for a campaign to preserve smaller local businesses) Map: Google Map Links: Wikipedia -
DIRECTORY
LANDMARKS
Contrary to what most people would tell you I would start Austin by seeing how beautiful it is by the Lake, you can walk down from the Congress Avenue and head east for 1 1/2 miles past Four Seasons. Many times you see the university rowing teams practicing. A totally different view to the city. Officially, however, these are probably the top 10 things to see in Austin: Top 10 Things to Do in Austin 1. Completed in 1888, the pink granite Texas State Capitol stands 302 feet high and is 14 feet higher than our nation's capitol. Guided tours are offered weekdays, 8:30 a.m.-4:30 p.m.; Saturdays, 9:30 a.m.-3:30 p.m.; and Sundays, 12-3:30 p.m. Free admission. 512-463-0063 2. Relive the pages of Texas history at the Bob Bullock Texas State History Museum. Interactive exhibits, artifacts, an IMAX Theatre and the multi-sensory Texas Spirit Theatre bring the myth, legend and fact of Texas all together under one roof. Open Monday-Saturday, 9 a.m.-6 p.m.; Sundays, 12-6 p.m. 512-936-8746 3. The University of Texas is home to the Blanton Museum of Art, recognized for its European paintings and modern and contemporary American and Latin American art. Open Tuesday-Friday, 10 a.m.-5 p.m.; Saturdays, 11 a.m.-5 p.m.; and Sundays, 1-5 p.m. 512-471-7324 Tour the State Capitol of Texas, one of the most beloved landmarks in the Lone Star State 4. Enjoy the spectacle of the Congress Avenue bats, the largest urban bat colony in North America, as 1.5 million Mexican free-tailed bats depart nightly at sunset, April through October, from beneath the bridge. 512-327-9721 5. See the natural beauty of the Texas Hill Country at the Lady Bird Johnson Wildflower Center, where planting areas, wildflower meadows, exhibits and observation tower pay homage to Lady Bird's devotion to native landscaping and preservation. Open Tuesday-Saturday, 9 a.m.-5:30 p.m.; Sunday, 12-5:30 p.m. 512-232-0100 6. Visit the Lyndon Baines Johnson Library and Museum to see copious volumes of presidential papers, a scale replica of the Oval Office during his presidency, and a First Lady's Gallery devoted to the work of Lady Bird Johnson. Open daily, except Christmas, 9 a.m.-5 p.m. Free admission and parking. 512-721-0200 7. Swim in the constant 68-degree waters of Barton Springs Pool, an artesian spring-fed swimming hole in Zilker Park. Open daily 5 a.m.-10 p.m. Closed Thursdays, 9 a.m.-7 p.m. Nominal admission charge. 512-476-9044 8. Take in all the sights on The University of Texas campus, one of the largest public universities in the nation. Tours are available of the UT Tower by reservation only on Saturdays and Sundays, 2-6 p.m. 512-475-6633 9. The heart of Austin is found along the Lady Bird Lake Hike and Bike Trail, a 10.1-mile path bordering the lake on its flow through downtown. 512-974-6700 10. Head to South Congress Avenue to discover eclectic shops, trendy restaurants, unique accommodations and popular music venues. On the first Thursday of each month, merchants keep their doors open until 10 p.m., playing host to an array of events and activities. And – do not miss the Whole Foods Headquarters and the food trailers all over the city.
TIPS/TODOS
Austin is a city of the best HAPPY HOURS – even the Four Seasons hotel has one. A great resource for all happy hours is FrugalFeaster.com Friday nights go to Maria Maria (downtown) – if you like Salsa. The Brew usually performs there on Fridays. The place is co-owned by Carlos Santana and they sound just like him! It is very deceiving.