Please introduce yourself.
My name is Mirela Bitkowski and I was born and raised in Iasi, Romania. I moved to the US in 2007
to pursue a career in mental health, where I spent four years studying in San Diego, California before
moving to Austin, Texas. I received a Bachelor in Psychology and a Master in Mental Health
Counseling from St. Edward's University. I am a psychotherapist helping adults and families, who are
struggling with a variety of issues, develop healthy relationships and live life with vitality, fulfillment,
and authenticity.
How did you end up in Austin of all places?
When I was living in San Diego, my husband and I decided to visit some friends in Austin and spend
some time here. We both had a great time and fell in love with Austin's culture, natural beauty, and
food. When we got back to California, we started debating about making another transition and a few
years later, we decided to move here permanently and call this wonderful city our home. We still visit
California every once in a while since my husband's family lives there, but we really enjoy living here.
How do you find the lifestyle in Austin compared to your hometown?
I would say that my lifestyle now is completely different from how I grew up in my hometown. At first
when I moved to the US, it was a huge transition and I didn't realize at the time how difficult this
process of adjusting to a new life was going to be. My hometown is a fairly small town with great
architecture, amazing nature, and it's very easy to get around. One can basically walk everywhere,
especially when compared to Austin. I do miss the food there, but most importantly, I miss my family
and older friends. However, when it comes to Austin, I love the diversity of cultures, all the different
foods, and its natural beauty. Even though it was and still is a huge transition, I am fortunate to have
amazing people in my life who are supportive, kind, and encouraging and I love spending time with
them.
How do you make your living now – and how would you like to develop that career?
I am an Austin based Psychotherapist and I am very passionate about helping people overcome
challenges and difficulties in life. I provide counseling and therapy services to children, adolescents,
adults, and families. I also enjoy working closely with immigrants and internationals from all over the
world that are trying to adjust to a new culture, make new friends, decrease stress, overcome their fears,
who wish to be happier, healthier and achieve their dreams. As a therapist with first-hand multicultural
experience, I deeply understand the intricacies and difficulties that come with living abroad and strive
to help people become more empowered, find balance, and achieve their goals. To me, it is such a
privilege and an honor to get to know people in therapy and see them make positive changes in their
life, improve their relationships and self-esteem, as well as become more confident and self-reliant.
I care deeply about every individual and family coming in my office and I deeply value our therapeutic
relationship. We all need help from time to time and I believe every person can benefit from therapy.
What made you decide to become a Psychotherapist?
Not to sound too stereotypical, but I've always kind of known that this was the career I would like to
have in life. From an early age, I started reading self-help and psychology related books. I was always
intrigued with why people think, feel, and behave the way they do and was looking to understand how
people got to that place in their life. I also remember being fascinated with a radio-show whose host was
a psychologist talking about different therapy related subjects every day. I remember my friends not
understanding why I would listen to that radio show, but for me it was incredibly captivating. I was
always passionate about mental health which is just as essential as physical health.
What inspires you to help others?
I'm inspired when I see someone begin to feel better about themselves. That means different things for
different people, but it can be reaching a specific goal they have, being able to love again, or process a
painful experience. I truly believe that as people move from a place of fear and become more self-
aware and empowered, they are not only healing themselves, but also promoting change in the family
and social system. If you want to see change in the world, a good place to start is with yourself.
If you could teach the world one skill or technique to improve their lives, what would it be?
I want people to become more compassionate toward self and others and know that by judging
themselves harshly or even hating themselves is not going to bring them happiness. We all have an
inner critic that is telling us that we are not good enough, not beautiful enough, not strong enough, or
not smart enough, etc., but letting that critic take control of our thoughts is not helping us improve our
lives. Instead, a lot more helpful and beneficial in the long run is to learn to embrace yourself – flaws
and all – through self-compassion and self-acceptance. Scientific studies have shown that self-
compassion actually tends to reduce anxiety, depression, improves relationships and helps people make
lasting positive changes in their lives.
What do you like to do in your spare time?
When I'm not working, I enjoy hiking, exploring the outdoors, and the beautiful nature that Austin has
to offer. I'm also passionate about traveling to different countries around the world, which forces me to
step out of my comfort zone. Experiencing different cultures allowed me to become culturally sensitive
and appreciate diversity and differences in everyone. Most importantly, I enjoy relaxing and spending
time with family and friends.
Do you try to go back to Europe every year?
I do try and go back every year to visit family and friends. It's really a long way to go to visit
family, but it is also a very enriching experience. I always enjoy spending time with family and catching
up with old friends. While we do talk and Skype every week, it's definitely a lot better to see each other
face to face and be there physically. Although I love my life in Austin, I also love and miss those amazing european
cafes and bakeries, european architecture, as well as being able to easily get around
to places.
Could you share with us what are your plans for the future?
In the very near future, I want to focus on growing my practice and sharing my knowledge with other
people that are striving to reach their full potential and live the life of their dreams. I truly believe that
with the right support, we all have the capacity to lead a happy, authentic, and fulfilling life.
Connect with Mirela: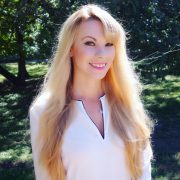 Website:
www.atx-psychotherapy.com
Email: mirelabitkowski@yahoo.com
Facebook:
www.facebook.com/austintxtherapy
Instagram:
www.instagram.com/atxtherapy