The 'City of Light' is a philosopher, a poet, a crooner. Paris is a million different things to a million different people. Paris probably has more recognozable landmarks than any other city in the world. Most first-time visitors often arrive in the French capital with all sorts of expectations: of grand vistas, of intellectuals discussing weighty matters in cafés, of romance along the Seine, of naughty nightclub revues, of rude people who won't speak English. You can find all of those for sure! Any writer will be unable to capture the grandness and even the magic. If you stick to the touristy stuff – you may miss it! Walk, talk, sit down and let it speak to you! It's a "date with Paris".
UPCOMING EVENTS IN Paris
There are no upcoming events for Paris at this time, check back later.
PREVIOUS EVENTS
Here is a listing of all the 140 previous events we have had in Paris. Events with pictures are noted with a camera icon.


TEAM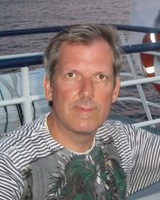 Claude Chapron
Born in beautiful Brittany in France, I was an exchange student in the US after I graduated from High School in France and spent a year in Collingdale, Pennsylvania. Back in France I got a Tourism degree and worked as a tour guide and travel agent. I also lived in Reunion Island, a French island located in the Indian Ocean, in Saudi Arabia for two years and after more than eleven years in Paris, I moved to Madrid, Spain where I have lived for 7 years. This is where I met EuroCircle for the first time. I have been engaged with an association that gather the French living outside of France and now I have decided to get more involved with EuroCircle and start new events in Paris.
I also work as Regional Sales Manager in the EMEA region looking after my company's largest customers. My hobbies include going to the theatre, watching movies and I am a big fan of Broadway musicals. I did not mention to you that I played the part of Conrad Birdie in the School's musical when I was in Pennsylvania. I am looking forward to meeting you at EuroCircle Paris events soon.
CITY INFO
DIRECTORY
LANDMARKS
TIPS/TODOS
FORUMS